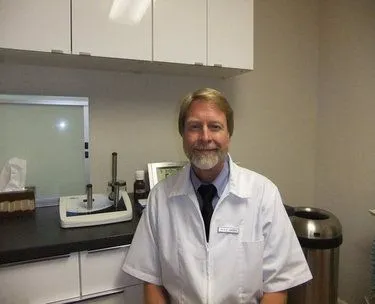 Keith R. Sanders D.C.
Dr. Sanders grew up in the San Jose area. Upon graduating from Lynbrook High School, he began pre-med studies at De Anza Jr College. He also completed training to work in the general hospital setting at El Camino Hospital as a nursing assistant in orthopedics. After completing his studies at DeAnza Jr. College he transferred to National College of Chiropractic in Chicago, Illinois, where he received the Bachelor of Science Degree in Human Biology and then the Doctor of Chiropractic Degree.
He returned to California to set up private practice in Cupertino. He completed postgraduate studies in Chiropractic Orthopedics and certification as an Industrial Disability Examiner.
Dr. Sanders has been in private practice for over 25 years. Dr. Sanders' clinical training and expertise is non surgical treatment and rehabilitation of orthopedic disorders of the spine and extremities. He has an active practice which includes care for headache, spinal disorders, shoulder disorders, elbow wrist and hand disorders, hip disorders, knee, ankle and foot disorders.
---
Office Manager - Terri